Glass Replacement
Posted by: Al on 06/26/03

The 1966 charger rear quarter tempered glass is 30"x16" with a slight curve. a large window bottom channel is bonded to the bottom of the glass and the glass front edge is bonded to a metal weatherstrip.

In everyday use the window drops a little and then pivots in the rear to continue down and back along the front travel guide. Swivel type rollers are used on the front and rear travel guides. Removing BOTH travel guides makes repairs easier.

The front travel guide uses 2 roller assemblies. the 2 rollers are removable and fit slots in the window bottom channel. The rear travel guide uses a single roller which comes out of its slot when the travel guide is removed. All rollers are swiveled to ease adjustment in the travel guides.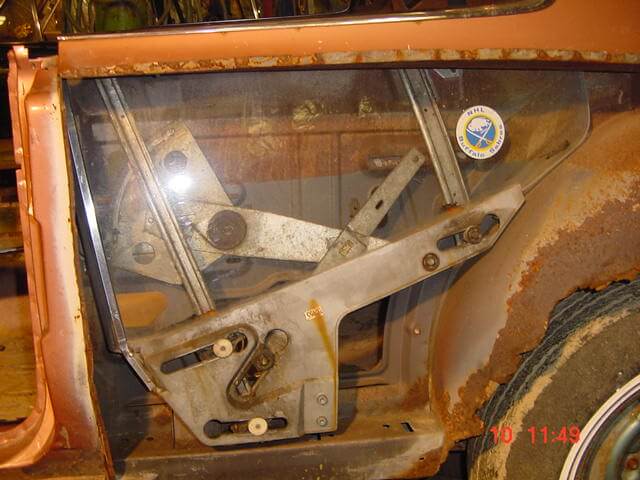 To remove glass you must remove the seat and the arm rest. Remove 2 screws from the bottom of the trim pad. Remove the rear light cover. Remove the garnish moulding by gently prying the 5 clips up(the clips pass through the door panel and into holes in the quarter panel). Remove 5 screws to remove the weatherstrip under the garnish moulding. remove plastic water shield (?). Remove door opening rubber guard-4 screws. Pry 2 side clips to remove electric regulator switch. Remove trim pad. Remove travel stops. 2 7/16" bolts hold front, 1 holds rear.
Disconnect 2 regulator arms. Front arm has roller assembley that sits in a slotted hole in bottom window channel. Rear arm sits in a hole in bottom window channel held by snap ring.
Jockey glass around till you can reach into rear access hole and pry snap ring off pin freeing rear regulator arm. To free front regulator arm, pry snap ring off holding roller and pull roller off regulator arm.
To remove rear travel guide-remove top nut and bottom screw-pull guide down a little, twist to release swivel roller from bottom window channel.
To remove front travel guide-remove upper and lower nut-tilt glass till rear of glass is tilting down--pull front travel guide down to free it from top roller-pull down more till guides slides off bottom roller. Carefully take guide out. slide roller assemblies out through enlarged holes of their slotted holes. Now remove glass-tilt glass inward-lift up and out.
To install window. hold assembly (glass and bottom window channel) in rolled up position with bottom channel just inside belt line (belt line area is about where your arm would rest) tilt glass to the rear, put 2 front travel rollers in their slots in bottom window channel. Prop or hold glass, EASE in front travel guide, GENTLY push guide up and EASE it on to bottom front travel roller. Slowly push guide up til it slides onto top front travel roller. Once front travel guide is engaged with its rollers level/straighten glass and while holding up install guide bolt and screw. LIGHTLY tighten front guide.
While holding glass up EASE rear travel guide in. position guide so that swivel roller engages slot in bottom window channel. Now replace and LIGHTLY install rear guide.
Install and hold front regulator roller in its slot while the front regulator arm is EASED in. secure front regulator arm with snap ring. Install rear regulator arm using snap ring.
Check window travel (will glass roll up/down?). install front/rear top travel stops. adjust travel guides and stops for correct travel and contact with roof and front door glass. Tighten travel guide bolts and screws. Reinstall trim.