Posted by: Johnb66 on 12/13/07

Just had this guy repair my heater control valve - even soldered the capillary tube (I didn't know that would work or even could be done) with a big note NOT TO BREAK THE TUBE.

He does nice work:
www.heatercontrolvalve.com

Posted by: Mark Hackathorn on 12/03/05

For those of you who have AC and are in need of a Heater Control Valve. You can buy a new one from CVI that works.

I've been looking for one since February and few come around. A NOS one came on Ebay and went for big money. I found a used one in a '67 Belvedere but the guy wanted $85 & no return even if it didn't work. No thanks, not for a 40 year old part that probably leaked anyway. I got one from a dealer in TX for $15 + shipping, but it leaked.

Doing some searching on the 'net I found out that Ranco (who made the original valves) was bought out by CVI in Sweden. Turns out Ranco made valves for Volvos as well and CVI is kinda like John at US Car tool but for Volvos. I contacted CVI and after waiting all summer for them to get some stock to arrive, I got one this week. You can buy the valve and a "U" hose from CVI for $128 shipped.

It's the exact valve and guts, just a different mounting plate. If you're a DIY'er you can move the guts to our mounting plate.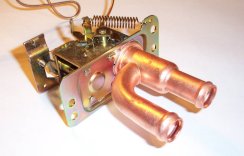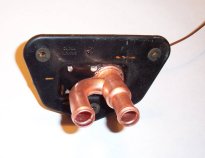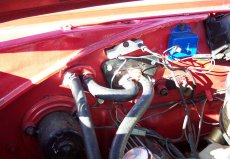 Moving the guts is not easy... if anyone wants to do this, contact me and I will tell you how I did it. If you are not a purest, you can easily cut out the center of our mounting plate and bolt theirs to the back of ours... which I considered doing. So nice to have heat I can adjust and turn off and on!
You can contact:
Mikael Sallstrom at CVI Automotive (Orders) [[email protected]]
I ordered the 673452 Heater control valve, PV/Du/Az and the 660047 Heater hose, Amazon B16/B18
You have to cut a few inches off the heater hose, but it fits nice...
Here's the website: http://www.cvi-automotive.se/index.htm for CVI (posted by Allen Ward on 12/03/05)
Allen Ward is currently negotiating with CVI Automotive to get this valve produced with our mounting plate in the correct fit and finish for our Chargers. They are very excited to break into the MoPar segment and will be looking into it very soon. Whether or not this happens is dependent on their supplier in Spain cooperating. It could be up to 1-2 years before a definitive answer is received, and another 6 months before a finished product is available.

Update: 06/23/06

Here is a series of photos showing Allen's progress with adapting the valve to the Charger backing plate: