Headlamp Relays and Switches

(with additional information submitted by John Kane)



Headlight motor relay switches



Working on relays requires a little knowledge and experience. Daniel in Florida reports that the NAPA relays listed here "fried" his wires. Others reported no problems. Best advice at this time seems to be: be careful, know what you are doing and ask for good advice from the group. My personal experience was that the NAPA relays did not match the configuration of the original relays and require some additional undersatnding on how to hook them up. The AR100 control relay that I got from NAPA looked a lot like the AR103 on the outside. The AR103 was hung upside down for our use although it functioned properly; the wires had to come in from above rather than below. The AR103 seems to match our opening and closing relays.



Ron B. posted on 03/18/06 this source for relay switches:




Keisler Engineering Inc., Knoxville, Tenn. (865) 609-8187




P/N KE66HLRELAY. $ 50.00 set of three.



Roger Bohl says: The opening & closing relays are NO [ normally OPEN ] relays. The controlling relay is a NC [normally closed ] relay. That is case grounded. That is why it only has 3 terminals. When you turn the H/L on it will close the opening relay and open the controlling relay. Which will open the H/ls. When you shut off the H/L switch the opening relay opens and closes the controlling relay. Which in turn closes the closing relay to shut the H/Ls. When the H/L get home the limit switch breaks the ground path to the relays. The NAPA controlling relay is a NO/NC relay so you have to be careful which terminals you use.

Marc Milosevich says: The plastic bearing must be clean and free of binding. The motors have a ring designed with a machined edge, with the mounting strap, to keep the motor from turning after it reaches the limit switch. That machined edge wears down and the motors are still trying to turn after it's cycle either on or off. This put strain not only on the motors but the entire system. I mounted two set screws on the mounting strap. But even if you add these set screws it is critical to mount the motors properly. It is critical to mount those buckets firmly against the closed limit switch. When the motor cycles it will stop, again, firmly against the opposite switch.
If everyone did these three procedures, plastic bearing clean clear and straight, set screws on mounting strap and buckets securely mounted against the closed limit switch, most headlight problems would be reduced significantly.

Jon says: Napa Part AR204 is a replacement control relay for our cars with no wiring modifications necessary. Pins 30/87a are N.C. and will connect up to our 'T' shaped connector. It may be a slightly tight fit. Pins 85/86 are the coil terminals, so plug the single control relay wire into one of the pins (85 or 86) and run the other pin to ground and you're good to go.

Don Dodson says, the problems we experience are not usually the relays. Our troubles are usually connectivity/corrosion problems, so look there first.

66-67charger.com Tech Archives "Relay Replacement" article: Relay Replacement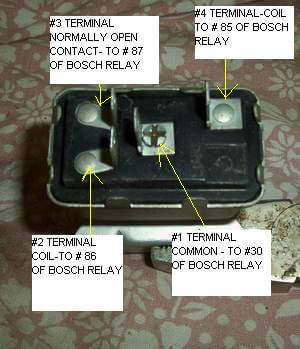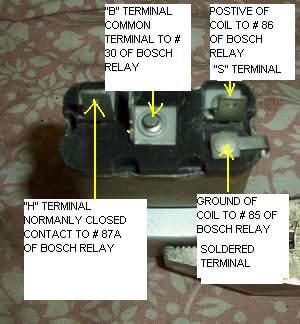 For general info: Many members have enabled their motors to work again with a simple cleaning and lubrication. Others have taken their motors to local automotive electrical shops and had services done for reasonable prices.
Reputable national repair service facilities change as time passes. Hemmings and the 66/67 Charger group web site members will always be sources for the current information.
Recommendation : seek the counsel of the group members with regards to shops/individuals that they know to be professional and trustworthy. This really applies to any outsourcing that you need to accomplish.
Headlight on/off and dimmer switches available at NAPA and some other parts stores.
The headlight switch is the same for 66 and 67, it is available at NAPA (PN: HL6571 - listed as a Coronet part)
There are two interchangeable versions, one with a ground tab and one without.
Headlight limit switches are available from 66/67 Charger group member Chris McGinnis (Topher) who has begun making a limit switch updgrade. Check with him for availability at headlightmotorman@live.com
A variety of pertinent headlamp information is also available in the Charger group message archive.(Editor's Note: be prepared to dig)